COMBATTING COVID-19 (CORONAVIRUS)
NJ AIR QUALITY SYSTEMS
Meyer & Depew offers a full range of residential and commercial solutions for your Indoor Air Quality problems.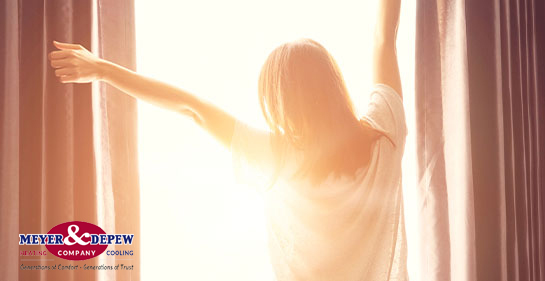 The airborne particles you see in a beam of sunlight streaming though your window represent only about 1% of the contaminants in you indoor air. These particles in the air you breathe may include dust, pollen, pet dander and mold spores.
Every building contains a certain amount of unhealthy gasses. They come from many sources; building materials, heating and cooling systems, even the earth under the building where naturally occurring radon gas can seep in!
Fortunately, today's modern air purifiers and cleaners can reduce or almost eliminate these and other contaminants such as some bacteria and viruses.

Ideal for use in:
Homes with children, pets, smokers, or allergy sufferers
Medical Facilities
Business Offices
Beauty Salons
Athletic Facilities
Pet Stores
Restaurants
Address indoor air quality
problems associated with:

Chemical odors (VOCs)
Cleaning Products
Pollutants
Smoke
Animal Odors
Pet Dander
Dust and Pollen
Mold
Bacteria
Viruses
iWAVE® AIR PURIFICATION SYSTEM
REDUCES SARS-CoV-2 (COVID-19) UP TO 99.4%
As a leading NJ Air Quality Company, we install and maintain the revolutionary iWave® Air Purifying Device that utilizes a unique form of ionization to purify the air in your home or business.
This popular system installs in any duct air conditioning/heating system making it the smart choice for many NJ residents.
The iWave unit works by injecting ions into the circulating air as it passes by the purifier unit. In a process similar to a lightning storm or waterfall, these ions break down pollutants into simple compounds including oxygen, carbon dioxide, nitrogen and water vapor. The purifier also kills viruses, bacteria and mold by removing hydrogen molecules which are necessary for life. Plus, any remaining large particles are large enough to be filtered and contained by your existing system filter!
Click Here to view iWave's manufacturer-provided Pathogen Test Results.
REME HALO® AIR PURIFICATION
REDUCES SARS-CoV-2 (COVID-19) UP TO 99.9%
Click Here to view the RGF REME HALO SARS-CoV-2 Environmental Group Study.
Meyer & Depew installs and services leading air purification systems including the highly effective REME HALO® and iWave® air purification systems, both of which clean the air in your home, producing a healthy environment for your family or business. We also have highly effective solutions for homes and buildings without duct systems.
Meyer & Depew installs and maintains the REME HALO Whole Home In-Duct Air Purifier system. This award-winning air purification system installs right in your existing HVAC system and provides whole home and building purification by safely ionizing your circulating air.
The REME HALO system reduces airborne particulates by 99% while killing up to 99% of bacteria, mold and viruses! In addition, if you are investigating a NJ Indoor Air Purifier to address Coronavirus concerns, please review the REME HALO group study pdf (link).
Contact Meyer & Depew for REME HALO installation costs and learn how we can help your family members or employees breathe easier!
NJ AIR PURIFICATION SYSTEMS
Reduce over 99% of odors, germs and bacteria with a Whole Home Air Purification System from Meyer & Depew!
Protect your family or customers from unwanted, harmful pollutants and odors. A compact, efficient air purification system from Meyer & Depew can be quickly and easily inserted into the wall of an existing HVAC duct to eliminate 99% of all odors, germs and bacteria.
This cost-effective solution is typically more effective than standard home air filtration systems and is more efficient at cleaning the air in your home of large and small airborne particles.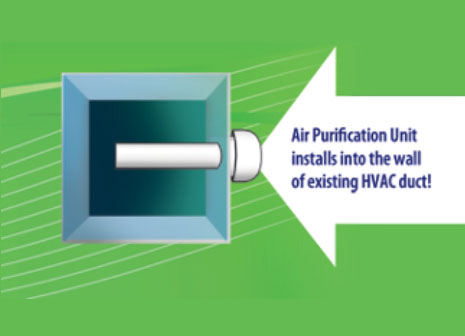 NJ AIR PURIFICATION SOLUTION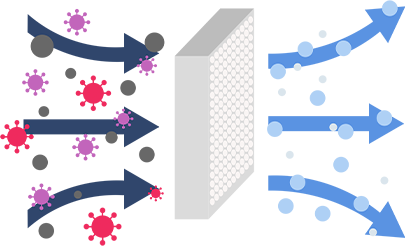 One superior, cost-effective NJ Air Purification solution may be an ionic air purifier, sometimes called an electronic air cleaner.  These are available in two configurations:
Using charged electrical surfaces or needles, an ionic air purifier generates electrically charged air or gas ions.

 

These ions attach to airborne particles, which are then electrostatically attracted to a charged collector plate.
A fanless ionizer is noiseless and uses little power, but is less efficient at air purification than comparable fan-based ionizers, which clean and distribute the purified air much faster.
A Meyer & Depew electronic air cleaner system can capture or neutralize up to 99% of all airborne particles (learn more below) and uses only about as much electricity as a 30-watt bulb
HAVE A HOME WITHOUT DUCTWORK?
Have a home without ductwork? Meyer and Depew offers several other possible solutions to indoor air quality problems. We are recognized as the state's air quality experts and have been helping NJ families and businesses breathe easier for over 50 years!
Questions? Contact a Meyer & Depew Air Purification Expert Today (plus receive a FREE Estimate). Simply use the form on this page (above) or call 908-272-2100!