Commercial Rooftop Unit Replacement
At Meyer & Depew, we specialize in Commercial Rooftop Unit Replacement & Custom Curb Adapters.
Meyer Depew brings the same level of care and service you've come to expect at your home to your business with Commercial Rooftop Unit Replacement service in your area. We are the region's replacement experts for up to 25-ton load AC/Heating units.
The Meyer & Depew Advantage: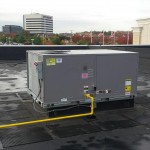 Custom Curb Adapters – We are the area's leading provider of HVAC unit roof curbs and handle every phase of your curb replacement project including expert onsite evaluation, fabrication, delivery, installation, and follow-up. From start to finish, most custom curb adapter projects are completed in 2 months or less!
Your new Meyer & Depew Curb Adapter may save you big at Tax Time! Changes in the tax laws are affecting depreciation schedules and this could mean large savings for you and your business. See your tax professional for details.
We are an authorized dealer for several leading brands of commercial heating and cooling systems, and install all makes and models of rooftop units. We also install Variable Refrigerant Flow (VRF) Systems.
Planning Commercial Rooftop Unit Replacement? Call us today and we can assist you with a phased approach to replacement rooftop units. We are experts at taking seemingly complex projects and delivering cost-effective solutions with minimal or no downtime for your business and employees. Contact us today for Commercial Rooftop HVAC Units Prices and see how much you can save with Meyer & Depew!
We will install the right Commercial Rooftop HVAC Unit for your building for your Heating, Air Conditioning, Ventilation or Combination Needs
Here are a few of the AC and Heating Rooftop Unit Replacements we've completed around the state of New Jersey:
A supermarket in southern NJ had a unit that was in need of costly repairs. However, replacing the unit was a more cost-effective solution and with project financing, we were able to provide them with a new rooftop HVAC unit with monthly payments that were more than suitable for their budget.
A bank in southern NJ had two units out of three that were found to have cracks in the heat exchangers. A cracked heat exchanger emits carbon monoxide gas which can lead to health issues or possible loss of life. We were able to provide the bank with three new units installed within one week. During the shipment period for the new systems, we provided temporary heating units in order to provide the bank's employees and customers with a comfortable working environment. With enough manpower on staff, all three units were replaced in one day.
During a commercial maintenance service at a business in northern NJ, a technician found a defective unit with a cracked heat exchanger. We were able to provide the client with an appropriate cost and delivery schedule suitable for their business. This project was also completed in one working day.
Simply 
Click Here
 or call us at
908.272.2100
 today to set up an appointment! We're here to respond promptly to all of your Commercial Rooftop Unit Replacement needs with 24 hour/7 day HVAC NJ service.