Cracked Heat Exchangers
What happens if you have a cracked heat exchanger in your furnace or boiler?
One of the more serious problems with a home heating system is a cracked heat exchanger in the furnace or boiler. A heat exchanger can be thought of as the "heart" of your furnace or boiler. Cracked heat exchanger repair costs are usually very high since the whole heat exchanger must be replaced. In most cases, the cost of  replacement is comparable to installing a new furnace or boiler. A cracked heat exchanger can allow Carbon Monoxide to spread into your home. Many of us realize the dangers of carbon monoxide: it is tasteless, odorless, and colorless and can even cause death. Of course, the severity of the crack will determine the level of carbon monoxide that may escape. Either way, cracks in your heat exchanger will eventually get worse and should be addressed immediately.
Cracked Heat Exchanger Symptoms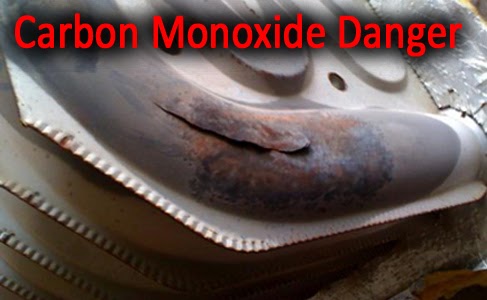 Cracked heat exchanger symptoms can include:
Abnormal flame
No heat in home
Visible cracks
High Carbon Monoxide levels
Sometimes, you may not have any symptoms of a cracked heat exchanger. As part of the Meyer & Depew heating safety check, we inspect your heat exchanger for any cracks or defects. If we do find any cracks or holes, we can help recommend some possible solutions. In addition, we inspect and maintain the rest of your furnace to ensure the safety of the system. The Meyer & Depew heating safety check also maximizes the life of your equipment, reduces your energy bills, and provides a guarantee that your heating system won't break down all winter.