Specials from Meyer & Depew!
Lowest Prices of the Year!
Free Air Purifier for a Limited Time!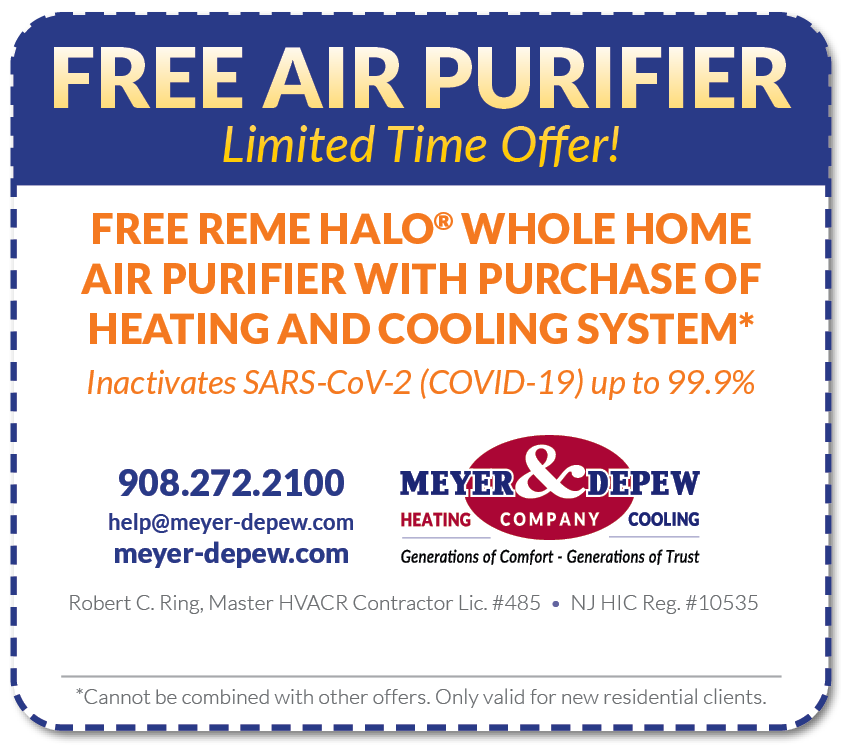 First 2 Months FREE for New Service Agreement Clients!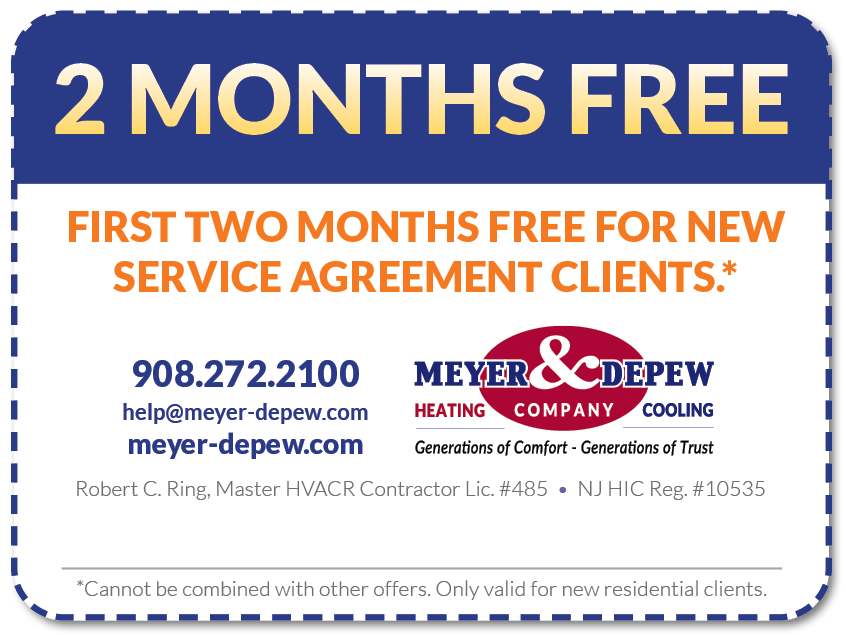 On A Heating System Safety Check
& Enjoy Our WORRY-FREE SATISFACTION GUARANTEE**
Every Heating unit serviced during our Safety Check Savings Season is certified against breakdown or we'll refund the entire cost of the Safety Check.
Meyer & Depew services and installs all brands of Heating/AC systems. For replacement, we recommend our popular Signature Series comfort systems.
The Meyer & Depew Certified Heating System Safety Check List:
Lubricate blower and motor bearings (if equipped).
Check belt condition and tension (if equipped).
Install clean air filters (1″ disposable fiberglass filters provided).
Check that furnace flue is venting properly.
Adjust burner for proper flame (as necessary).
Check condition of pilot; clean (as necessary).
Check gas line pressure.
Check manifold pressure.
Check condensate if necessary.
Check fan and limit control.
Check pilot safety.
Check heat anticipator.
Check pressure regulator.
Check burner operation.
Check heat relay.
Check safety controls.
Check thermocouple.
Check temperature rise.
Check fan speed for winter operation.
*Some units may be slightly higher. Valid only on systems not currently covered by a Meyer & Depew service plan.
**Your Meyer & Depew expert technician will perform our certified precision safety check of your heating system. If it experiences a breakdown this heating season we'll refund the full amount of the service or credit the amount to the cost of repairs.
---
Home Generator Savings from Meyer & Depew!
Never Lose Power Again with a New Home Generator from Meyer & Depew!
---
New Jersey's Clean Energy ProgramTM
WARMAdvantage and COOLAdvantage HVAC Programs

KEY PROGRAM CHANGES:
NJ WARMAdvantage Program: Visit The Site Here – http://www.NJCleanEnergy.com/WARM
The WARMAdvantage Program provides rebates for high-efficiency home heating systems and/or water heaters. To be eligible you must purchase, install and operate a heating system and/or water heater that meets all applicable efficiency requirements.
NJ COOLAdvantage Program: Visit the Site Here – http://www.NJCleanEnergy.com/COOL
The COOLAdvantage Program provides rebates for energy-efficient central air conditioners or heat pumps as well as "best practices" on proper sizing and installation that affect operating efficiency.
Combustion Safety
Replacing gas heating equipment (e.g., furnaces or boilers) without replacing a water heater that is either direct vented or power-vented is potentially dangerous. Be aware of the risks and make sure your equipment is properly tested. Learn more about boiler replacement service.
Rebates are also available for municipal electric, oil and propane customers.