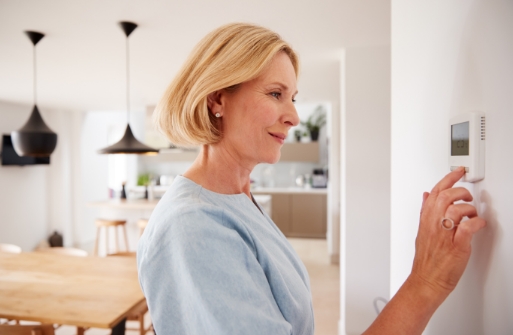 The advantages of VRF Heating and Cooling
Similar to traditional split systems, VRF HVAC systems are designed to work without ductwork. They feature a compressor that is mounted on the building's roof, and incorporate small footprint piping that transfers hot or cold refrigerant to individual wall-mounted units. But unlike traditional split systems, VRF units provide individual controls for each interior unit.
This means individual rooms or building zones can be heated or cooled independently of one another!
The ability to deliver warm or cool air on demand offers many advantages:
NJ-based Meyer & Depew is recognized as a leader in revolutionary Variable Refrigerant Flow heating and
cooling technology and is ready to help develop a cost-effective plan for your commercial business.

VRF Systems work in all NJ weather. From the coldest winter days to the hot, humid weather of summer, you'll be comfortable all year-round.

Employees, customers, tenants and building visitors will have a more comfortable experience in your building(s). In the case of employees, an optimal work environment temperature can lead to increased productivity!

Energy Loss and Expenses are Reduced as only the minimum amount of refrigerant is required to condition individual rooms.

VRF systems are quieter than many traditional heating and cooling systems and their components take up less space, making them the right choice for commercial applications in congested areas.

You may be eligible for incentives and rebates for installing an energy-efficient VRF system!
Call us today at 908.272.2100 to speak with a VRF Expert and receive a no obligation estimate!