Cracked Heat Exchanger in Your Furnace or Boiler
A cracked heat exchanger can become a serious health hazard if left untreated. A heat exchanger allows for heat transfer in your furnace or boiler and is one of the most vital components. Due to the constant heating up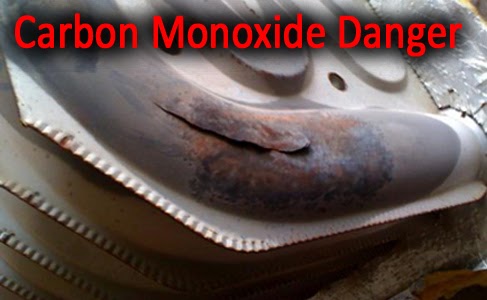 and cooling down process that your heat exchanger goes through, it is possible for the heat exchanger to develop cracks over time.
In most cases, furnaces or boilers with a cracked heat exchanger are completely replaced. This is because the cost to replace the heat exchanger alone can exceed the cost of upgrading to a new unit. Furthermore, a cracked heat exchanger can allow Carbon Monoxide to spread into your home. Carbon Monoxide has no odor, taste, or smell and can even lead to death. Cracks in your heat exchanger will eventually get worse and should be addressed immediately.
What to do about a cracked heat exchanger?
Unfortunately, many times, it can be hard to even tell if your heat exchanger is cracked. Cracks start out so small, they can be extremely hard to spot. Additionally, they may be in an area that is hard to see.  As part of the Meyer & Depew heating safety check, one of our residential or commercial hvac service professionals will inspect your heat exchanger for any cracks or defects. If we find any cracks or holes, we can provide options on how to fix the situation. In addition, we inspect and maintain the rest of your furnace or boiler to ensure the safe operation of the system. The Meyer & Depew heating safety check also maximizes the life of your equipment, reduces your energy bills, and provides a guarantee that your heating system won't break down all winter. 
The Cracked Heat Exchanger Scam
As a homeowner, you may have heard of the Cracked Heat Exchanger Scam. Because a cracked heat exchanger can be so dangerous, some companies have misdiagnosed a working heat exchanger as cracked. They use this misdiagnosis to scare homeowners into purchasing a new system when it may not be needed. At Meyer & Depew, we know the real dangers of a cracked heat exchanger, so we offer the following Cracked Heat Exchanger guarantee:
If Meyer & Depew diagnoses your furnace or boiler with a cracked heat exchanger and there is no crack found, we will give you a FREE replacement heating unit.
So the next time you ask yourself "where can I find heating repair near me", you can trust the experts at Meyer & Depew for all your HVAC service, installation and maintenance needs!
Just Click Here or call us at 908-272-2100 today to set up an appointment! We're here to respond promptly to all of your Heating and Air conditioning needs with 24 hour/7 day HVAC NJ service.
If you know someone that would benefit from this information, be sure to share this post with them.