70 YEARS OF COMFORT.
70 YEARS OF TRUST.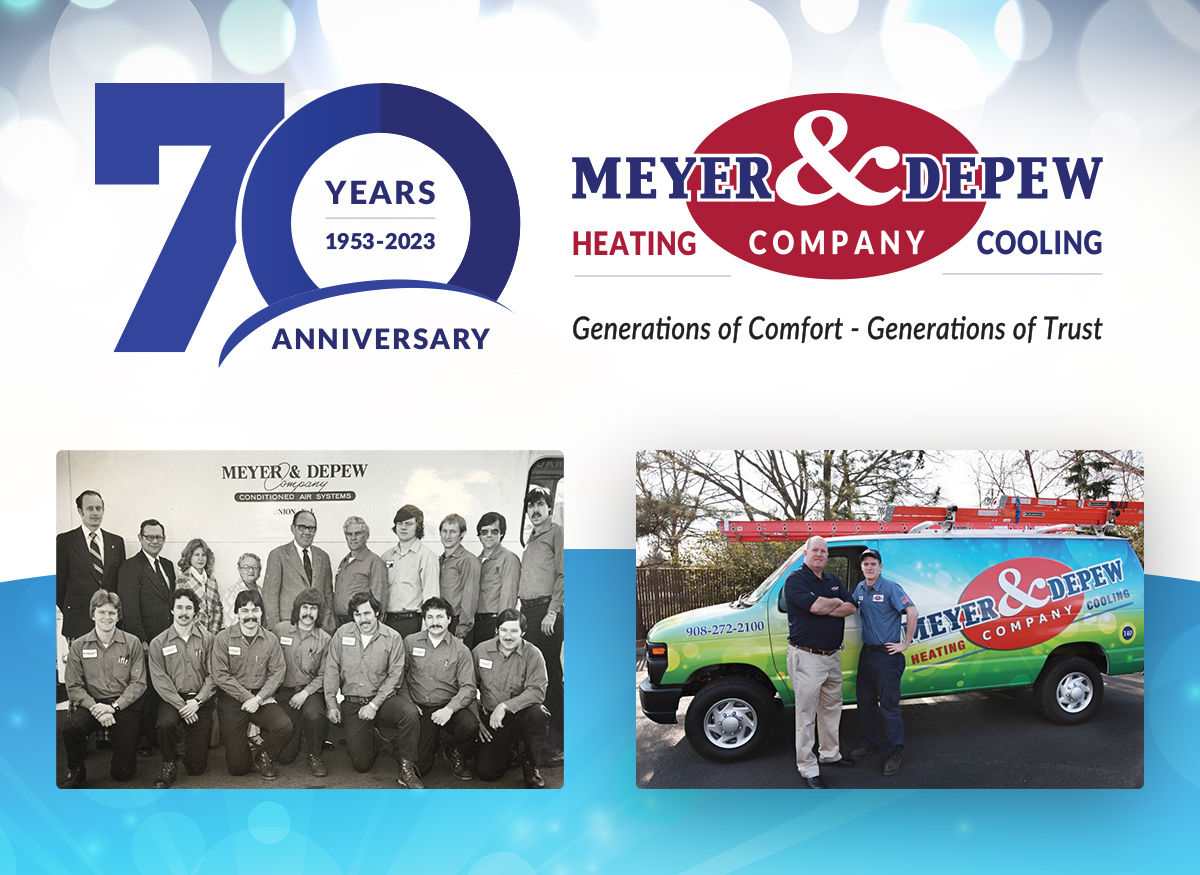 As one of the most successful residential and commercial HVAC contracting businesses in the Mid-Atlantic region, Meyer & Depew is proudly celebrating our 70th year in business.
Our story began in 1953 when Robert E. Meyer and James G. Depew formed the company in Hillside, NJ. Over the early years, our two founders built a substantial business, becoming a leader in the residential and commercial HVAC contracting businesses serving Central and Northern NJ.
Since 1983, we've been here in Kenilworth, NJ continuing our decades-long tradition of providing top-quality heating, air conditioning and refrigeration, equipment, jobs, service, and client satisfaction.
From the beginning, we've recognized that our employees are the strongest asset to our company and the satisfaction of our customers. We support them with the kind of company back up that has made Meyer & Depew Company named "One of the Best Contractors to Work For," by The Heating, Ventilating and Air Conditioning News, the leading trade publication in the HVAC industry.
Delivering quality, value, and peace of mind to our customers is our highest priority. That's why Meyer & Depew is a long-standing member of the Air Conditioning Contractors of America (ACCA). This industry organization upholds the most stringent requirements for professional ethics and requires its members to attend professional development, continuing education, and training to stay up to date with the latest trends and technology in the HVAC industry.
We also believe in being an environmentally responsible corporate citizen. Meyer & Depew is actively involved in sustainability programs and recycles the old furnaces, air conditioners, and other equipment that are replaced. One of our most important efforts focuses on the recovery and recycling of high ozone-depletion potential and high global-warming refrigerants.
And we give back. Through our charitable efforts, Meyer & Depew contributes to and participates in programs that benefit the local communities we serve. Among the many is the Sharing Network Foundation, a subsidiary of the NJ Sharing Network, which helps save the lives of people in need of organ and tissue transplants. Through our "Installation Donation" Program, Meyer & Depew donates to the foundation for every HVAC system it installs.
As Meyer & Depew proudly enters its seventh decade of operations, we look forward to serving our customers, both current and future, with the outstanding services and products that reflect our motto: "Generations of Comfort. Generations of Trust."