Commercial HVAC Services in NJ
Call Meyer & Depew HVAC Contractors for all your NJ commercial air conditioning and heating needs for your business or building. Click to Call!
Whether you need a controlled, affordable environment for office workers or products-or both-Meyer & Depew are experts at maintaining and improving what you have today. That's why our valued customers consider Meyer & Depew the best commercial HVAC company in NJ.
From offices to plants, retail to restaurants, meeting halls to houses of worship, we've worked with all sorts of building sizes, conditions and requirements. We subcontract commercial heating and air conditioning jobs for many area general contractors, architects, interior designers and engineers, too.
New Tax Law Means You Can Now Fully Deduct Your New Commercial HVAC System This Year!
What Does the New Tax Law Mean for Your Building's HVAC?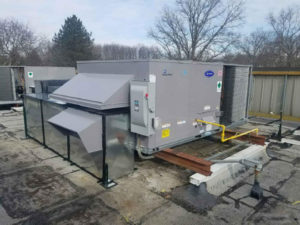 Changes in the tax laws are affecting depreciation schedules and this could mean huge savings for you and your business. With the 2017 Tax Cuts and Jobs Act, the full purchase price of a new HVAC system can be deducted this year. Prior to the 2017 Act, HVAC expenses were deducted over 39-years.
Call us today at 908-272-2100 to schedule an appointment for a Free Estimate! Or email us at clientservice@meyer-depew.com (or use the form below).
Consult your tax advisor to confirm how this change in the tax law applies to your organization.
Example:
Installation of a commercial HVAC system can cost about $14,000. Under the old law, only $350 could be deducted each year over 39 years. Assuming a tax rate of 36%, there was a savings of $126 a year. With the 2017 Tax Cuts and Jobs Act, the full amount of the system can be deducted in one year, reducing your tax bill by more than $5,100!
Research, resources, responsibility and relationships make us a different kind of heating and air conditioning contractor.
Meyer & Depew commercial air conditioning service and heating contractors want to know everything about each commercial building, from materials to expected uses within every single room.  When it comes to NJ HVAC repair or installation, Meyer & Depew is second to none for affordable, on-time service.
If it's new construction, we create a plan that outlines just what kind of heating, air conditioning, ventilation and air quality systems will be required. In established structures, we will inspect what is already in place and determine what improvements, if any, we recommend.
For any new equipment needed, we utilize only the best for our NJ Commercial HVAC customers, including highly efficient heat pumps and AC units. We use our buying power as one of Central and Northern New Jersey's largest HVAC companies to get it both quickly and affordably on your behalf.
We cover the entire state including North Jersey areas like Essex, Union and Bergen county, plus central/western counties like Hunterdon and Mercer, and "down the shore" in Monmouth and Ocean counties. No matter where you live in NJ, chances are you have seen our trucks and/or personnel out helping businesses with their HVAC needs. We are here 24/7 to assist you too!
And if you need Financing, we can help with that, too.
Commercial HVAC Contractors You Can Trust
Regardless of whether we're installing a new Commercial Rooftop HVAC Unit, or repairing or simply maintaining your current commercial heating and cooling systems so it runs smoothly, we take that responsibility very seriously. You, your people and your products will succeed or fail, in part, depending upon how well we help create a sustainable environment for success.
That's why Meyer & Depew commercial HVAC contractors undergo extensive training throughout the year, and are screened to be the most helpful and expert technicians we can find. Whether it's ac repair, heating system installation, or an air quality issue, Meyer & Depew, with our 50+ years of experience, is the commercial HVAC company you can rely on for on-time, affordable problem solving.
Meyer & Depew is also available for emergency HVAC services. In our region, the weather can place an extra burden on even the best heating and cooling systems. Simply call us 24/7 at 908.272.2100 for immediate attention to your commercial service or maintenance needs. From AC, furnace, or boiler repair, to air quality issues, we are always here to help.
Which leads us to relationships. It's what keeps our thousands of customers and brings hundreds more referrals our way.
From beginning to end, we guarantee your satisfaction.
Call today at 908-272-2100 and talk with us about your commercial building needs and learn how our experts can help (or use the form below).