NJ Air Quality Systems
Meyer Depew offers a full range of solutions for your indoor air quality problems.
The airborne particles you see in a beam of sunlight streaming through your window represent only about 1% of the contaminants in your indoor air. These particles in the air you breathe may include dust, pollen, pet dander and mold spores.
Every building contains a certain amount of unhealthy gases, which come from many sources – building materials, heating and cooling systems, and even the earth under the building where naturally occurring radon gas can seep in.
Fortunately, today's modern electronic air purifiers and cleaners are able to reduce or almost eliminate these and other contaminants such as some bacteria and viruses.
One superior, cost-effective NJ air purification solution may be an ionic air purifier, sometimes called an electronic air cleaner.  These are available in two configurations:
Using charged electrical surfaces or needles, an ionic air purifier generates electrically charged air or gas ions.  These ions attach to airborne particles, which are then electrostatically attracted to a charged collector plate.
A fanless ionizer is noiseless and uses little power, but is less efficient at air purification than comparable fan-based ionizers, which clean and distribute the purified air much faster.
An electronic air cleaner can capture up to 95% of all airborne particles, and uses only about as much electricity as a 30-watt bulb.  Meyer and Depew also offers several other possible solutions to indoor air quality problems.
Call today at 908.272.2100 or use the form on this page for NJ Air Purification Prices, Repair, Installation or Service on any make or model of air purifier or cleaner!
Air Purification Systems
Reduce over 99% of odors, germs and bacteria with a Whole Home Air Purification System from Meyer & Depew!
Protect your family or customers from unwanted, harmful pollutants and odors. A compact, efficient air purification system from Meyer & Depew can be quickly and easily inserted into the wall of an existing HVAC duct to eliminate 99% of all odors, germs and bacteria.
This cost-effective solution is typically more effective than standard home air filtration systems and is more efficient at cleaning the air in your home of large and small airborne particles.
Our systems effectively remove germs and bacteria from room air, including:

Ideal for use in:
Homes with children, pets, smokers, or allergy sufferers
Medical Facilities
Business Offices
Beauty Salons
Athletic Facilities
Pet Stores
Restaurants
Address indoor air quality problems associated with:
Chemical odors (VOCs)
Cleaning Products
Pollutants
Smoke
Animal Odors
Pet Dander
Dust and Pollen
Mold
Bacteria
Viruses
Meyer & Depew installs and services leading air purification systems including the award winning Reme Halo whole home in-duct air purifier and the iWave with its revolutionary bi-polar ionization technology, both of which clean the air in your home, producing a healthy environment for your family.
REME HALO® Air Purification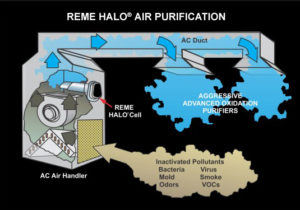 Meyer & Depew installs the REME HALO® Whole Home In-Duct Air Purifier system. This award winning air purification system installs right in your existing HVAC system and provides whole home and building purification safely ionizing your circulating air!
The REME HALO® system reduces airborne particulates by 99% while killing up to 99% of bacteria, mold and viruses. Contact Meyer & Depew for REME HALO® installation costs and learn how we can help your family members or employees breath easier!
We also have highly effective solutions for homes and buildings without duct systems!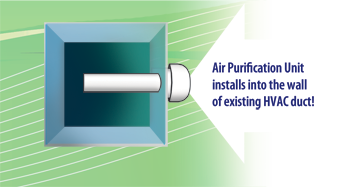 For NJ Air Purification Prices, Installation, Repair or Service (for any make or model of air purifier or cleaner), simply use the form on this page or call 908-272-2100!